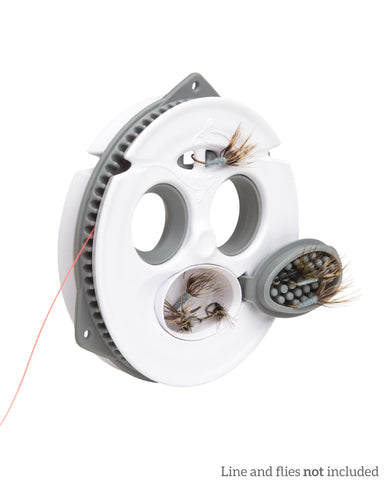 Tenkara — Line and Fly Keeper
The Keeper is a tenkara line keeping solution that incorporates an integrated fly compartment. It is designed to hold two tenkara lines, or tenkara line and tippet as well as some flies for a minimalist and innovative solution to manage your tenkara line(s). 
The Tenkara USA Keeper features two patent-pending solutions. The first feature is a unique line-catching mechanism. As you wind the line it gets automatically caught between two walls so that the line never "explodes" out of the spool, and you can stop winding it at any point rather than looking for a notch to stop. 
Another one is a small compartment to hold between 6 and a dozen flies (or your rod plug).
Specs:
Diameter: 80mm (3.15inches)
Weight: 39.6g (1.4oz)
Made in the USA
Read blogger reviews here: 
Teton Tenkara review
Teton Tenkara review
---
We Also Recommend