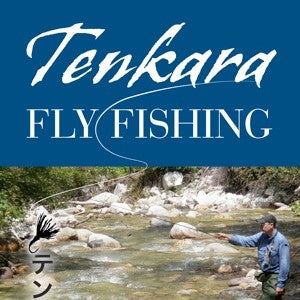 Tenkara Fly Fishing: Insights & Strategies by Dave E. Dirks
Learn tenkara fly fishing from the insights and experiences of some of America's best tenkara anglers
One of the things I first noticed when I began getting into tenkara was the lack of written material available outside of some very good blogs from ex-perienced tenkara anglers, many of whom participated in this project. Very little Japanese literature has been translated into English. There are still many Western-style fly anglers who still don't know or hadn't heard of tenkara. Now that I have experienced tenkara for myself, it's hard for me to imagine other anglers missing out on an opportunity to add another dimension to their fishing pleasure.
Searching around, I did find a small cadre of anglers who had discovered tenkara and were now on the path to serious dedication and understanding. More importantly, these guys were catching trout and lots of them in waters all around the United States. How could something this good be known to so few? We had to find ways to get the word out on tenkara as a method of fly-fishing here in the States. It seemed to me that the best way to do that was to find some of the best tenkara anglers in the U.S. and work with them to share their insights, strategies and tactics for tenkara. That's just what I did in producing this book.
You the reader have the opportunity to consider a wider range of views on tenkara, from the purist tenkara angler to what I call the "adaptive tenkara angler." There's room for everyone in the tenkara world. You can discern what appeals to you as you work your way through each chapter.
I think you'll enjoy the wit and often-sharp opinions that our group of tenkara anglers has openly shared. I know I have as I've worked through their interviews and constructed the manuscript for this book project.
What You'll Learn In This Book:
History of tenkara – What makes tenkara special – Selecting a tenkara rod – Tenkara fly lines – Best tippet options – Traditional tenkara flies – Matching the hatch vs. tenkara – Manipulating the fly – Non-traditional tenkara flies – Tying Traditional Kebari & Adaptation Patterns - Casting techniques – Fishing riffles, pools, eddies & pocket water with tenkara – Fishing small waters – Strategies for fishing larger waters - Fighting fish on a tenkara rod
---
We Also Recommend