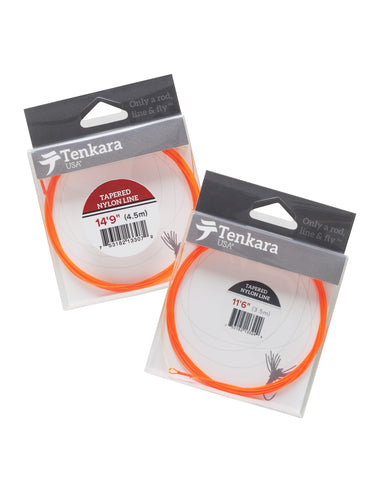 Tenkara Tapered Nylon line
New! The new Tenkara USA line is a tapered nylon line that casts incredibly easily, has the highest visibility of any of our lines, and will be a staple in many tenkara anglers' kits. This is our new main recommendation for anyone getting started with tenkara as it is easy to cast, easy to see and simple to connect to the rod. 

The tapered nylon line features a loop to girth-hitch to the rod tip, simplifying that connection. This line is available in two different lengths, 11'6" or 14'9". While the line can be cut it is recommended to be fished at the designed lengths.

Like all of our lines, the tapered nylon line is a slow sinking line; if you want to fish flies on the surface just keep the rod tip elevated, to fish it deeper just lower the line into the water. 

Length recommendations:
11'6" (3.5m) for the rods under 13ft in length and fishing small and mid-size streams. 
14'9" (4.5m) for rods over 13ft, for fishing mid and large size streams, rivers and lakes and more open waters, and for anglers who desire a longer line even with shorter rods. 
---
We Also Recommend